Colosseum Thunderstorm – Rome, Italy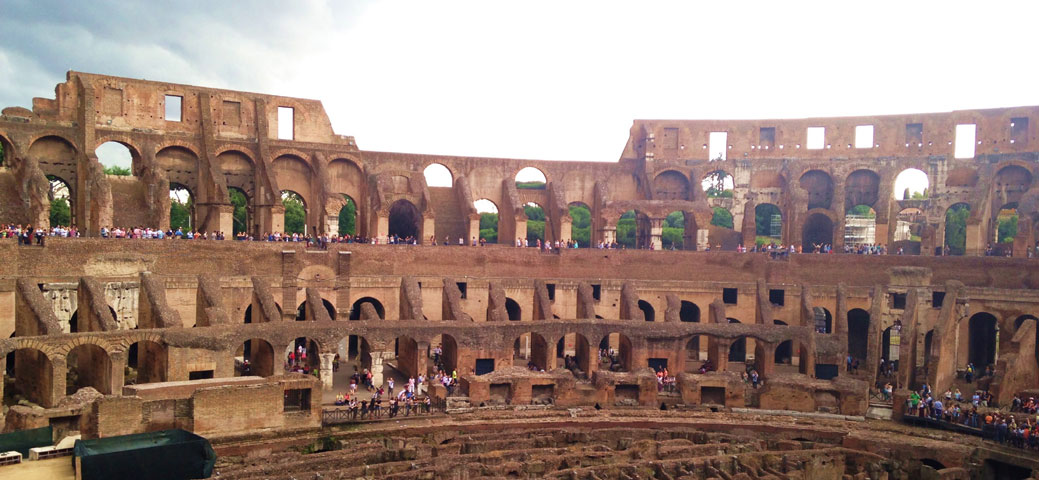 As I've mentioned before, the Colosseum was the place I was most excited about visiting in Rome.
I've seen that giant structure in more pictures than I can count and heard about its history everywhere from school, to pop culture, to stories from friends and family.
The Colosseum is an absolutely magnificent amphitheater. Its construction began in 70 AD and completed in 80 AD. At its prime, the Colosseum could hold up to 80,000 people. This iconic Roman landmark was used for gladiator contests, animal hunts and other forms of entertainment for the emperors.
My boyfriend and I we're both ecstatic to visit this incredible piece of history. He was even more excited than me since he's Italian and this is a huge part of his history.
The bed and breakfast we stayed at was a mere 5 minute walk from the Colosseum (it wasn't exactly in the nicest area but the room itself was lovely and we were in a great location for the subway as well as the ruins).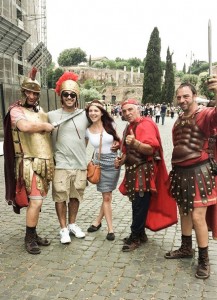 We finally got the chance to visit the Colosseum on a Sunday in Rome. We took the obligatory pictures with the gladiators that stand outside (no regrets about spending that cash) and opted to take a tour, not just wander around ourselves.
Tip: make sure you get a tour in the Colosseum! You will miss out on a huge part of the experience if you don't! The more detailed the tour, the better. Many guides offer free trips to visit other Roman landmarks as part of the package – take them up on that offer and enjoy!
The first half of our day at the colosseum of gorgeous and sunny, but suddenly clouds started rolling in, and wouldn't you know it – the biggest downpour I've ever experienced commenced.
Now most people would think that would be the end of our day – but no way! We ditched the tour group huddled under a roof, bought a poncho and an umbrella for €3 and ventured out into the storm.
Tip: if you're not sure whether or not it's going to rain, don't worry about bringing an umbrella if you don't mind spending a couple euros. As soon as the rainstorm starts there will be an endless amount of people trying to sell you one, bargain with them and you can get it for €2.
It was the experience of a lifetime.
My boyfriend and I could not have asked for a better time. Running around like kids in a, now, virtually empty Colosseum (everyone was hiding from the rain under roofs or heading back home). We've never laughed so hard or gotten so many great shots (no other tourists in sight!) at such a famous landmark before.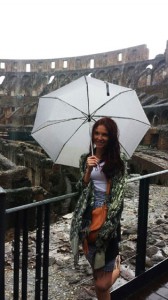 My tip for you is: don't shy away from bad weather! Embrace it. Your trip isn't ruined by rain – it's enhanced! The thunderstorm at the Colosseum was one of my absolute favorite travel experiences of my life.
Even if you're soaked to the bone, at least you'll have some great stories to tell and great pictures to show for it.
Have you ever braved a storm to enjoy your travels? Tell me your story in the comments!
Want to be up to date on all my latest posts/stories? Like us on Facebook