Trevi Fountain Closed – Misadventure in Rome, Italy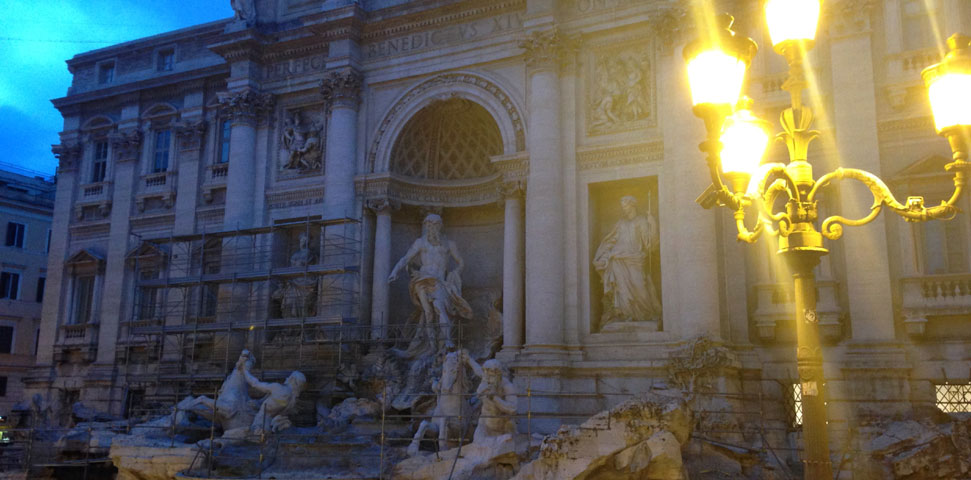 When you think of Rome, what are some of the "must-see" spots that come to your mind?
For most, top sights in Rome would include The Colosseum, Spanish Steps, Trevi Fountain, Vatican Museums, Sistine Chapel, and the Roman Forum… Especially if you're coming to this historic city for the first time.
Well, I'm no different. When I went to Rome for the first time, the sight I was looking forward to seeing the most (aside from the Colosseum) was the famous Trevi fountain. I had gazed at oh-so-many lucky travelers pose by this beautiful, romantic and majestic landmark.
On the day my boyfriend and I journeyed to the fountain we had the usual touristic expectations "we have to toss a coin in and make a wish" "it's going to be huge!" "This is one of the most romantic spots in the city – no not in the city in the world!"
Well imagine our dismay when it turned out the Trevi Fountain was… Closed?
I mean, maybe I was too naive, but I was shocked that one of the sights I've been dreaming of for so many years could be under construction, at the one damn time I got to see it.
Of course, we still made the best of it but it was pretty hard. You see the photo I posted of me and my boyfriend above this text? A man came up to us and offered to take this picture of us (we thought to ourselves what a nice guy!) and after he did (on our own phones!) he demanded €5. Each. Not exactly romantic. Way to kick us when we're down.
So my lesson through this little personal heartbreak is: some things are going to go wrong.
My tip for you is: expect the unexpected. Of course you can't anticipate everything – BUT if there is something that you're VERY excited to see, take the extra time to find out if there is anything going on that might ruin your experience.
Would I have travelled to Rome at a different time if I had known one of the landmarks I was most excited about was closed? Probably not. But at least I wouldn't have had my hopes up.
It's better to know than to be disappointed. I guess that's one of the downfalls of going to a place in the "off" season – even though this was in June.
P.S. Everything above and below the Spanish Steps was under construction too. So that was 2 disappointments in one day.
P.S.S. One of the merchants selling flowers at the Spanish Steps decided it would be okay to shove roses at me and my boyfriend when we repeatedly said no thank you and scratched my arm pretty badly with the thorns.
So bonus tip: be assertive with the merchants in Rome. Especially in big tourist areas – this is one case where politeness gets you nowhere.
Or…. don't be a man and woman walking together. The amount of harassment from those rose-peddlers is alarming and there's really nothing you can do about it.
In Florence I saw a man in a full out screaming match with one of them – really does you no good.