The Journey to Positano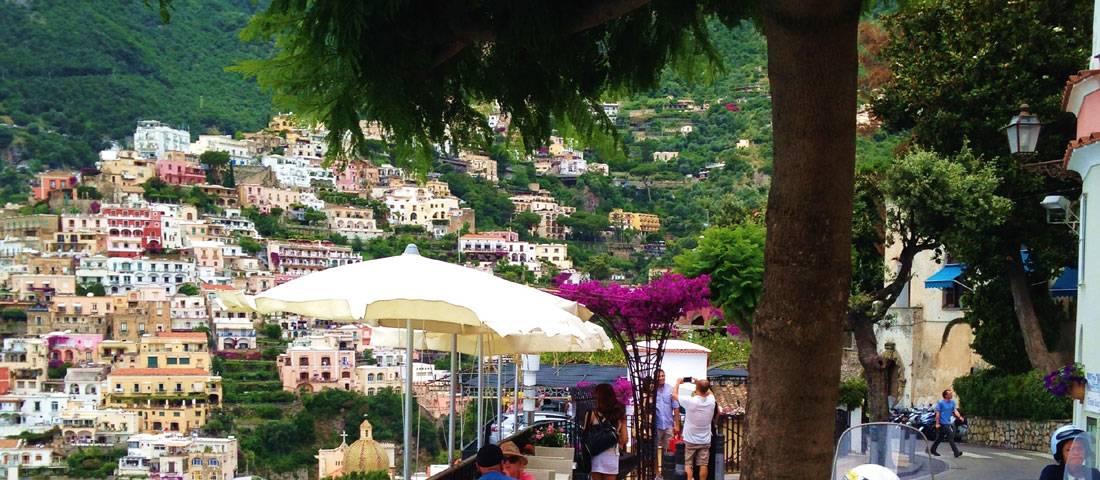 The road to the Amalfi Coast can be a tricky one, especially if it's your first time visiting the region and you're coming from the more northern cities – but I promise you, it is well worth it.
When my boyfriend and I travelled to Positano from Rome we didn't really expect the journey to be quite as long  and complicated as it was. The whole process took us about 4.5 hours (this included time waiting for trains and figuring out what to do next, you might be able to get there faster if you're better informed and prepared).
Now this is important: DO NOT lug a suitcase with you if you are going to Positano, or the Amalfi Coast in general, by public transit. You WILL go crazy and cause yourself an unnecessary amount of stress. If you don't know what to do with your suitcases read this advice.
Getting to Positano from Rome by public transit, step by step instructions:
Step 1:
Get to the Roma Termini Train Station. You can get there easily by taxi, or, if you're coming in from the airport there is a direct train you can take, you will see the signs.
Step 2:
Take the train to Naples (Napoli) Centrale Station. This will take approximately 60 to 80 minutes.
Cost: €45 for the fast train
Tip: purchase your own train tickets at the machine. Do NOT accept help from someone who is not a train station attendant – best case scenario  they'll bribe you for a few bucks, worst case scenario you get robbed. The train ticket machines are extremely easy to use – they have language options and very clear instructions anyone can understand.
Don't forget to validate your ticket before getting on board!
Step 3:
Take a train to Sorrento. This will take you approximately 60 to 80 minutes.
Cost: €8
The Naples station is somewhat confusing – it's huge and it has both above ground and underground platforms – you're going to want to go underground.
Once you get downstairs you will buy a ticket to Sorrento. Then you will go down to the platform and await your train.
The ride to Sorrento is a long and bumpy one, Sorrento will be the very last stop on your ride.
Tip: stop by Pompeii if you're interested in visiting! It's on your way.
Step 4:
Take a bus to Positano. This will take approximately 40 to 60 minutes.
Cost: €3.40
Buy a bus ticket from the attendant and get ready for a beautiful ride into town. Don't fall asleep – the views are breathtaking and the ride on the narrow winding road is exciting!
Step 5:
Have the time of your life in one of the most gorgeous towns in the world! There is so much to see and do!
You can visit the rest of the towns on the Amalfi Coast like Praiano, Amalfi, Capri, or Ravello by bus or by boat right from Positano.
In short your journey is as follows: Rome –> Naples –> Sorrento –> Positano, here is a handy chart.
As an alternative, there are transfers straight from Rome to the Amalfi Coast, however they are much more pricey and will take approximately 5 hours. This is a good alternative if you need to bring all your luggage with you.