Bellinis at Harry's Bar – Venice, Italy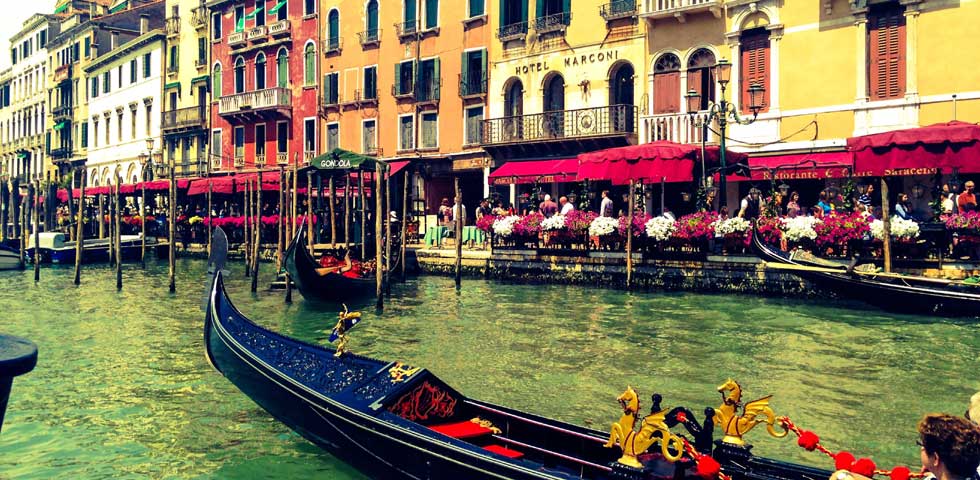 Did you know that Bellinis (the "girls night" favorite peach/ sparkling wine cocktails) were invented in Venice Italy?
I didn't. Not until I got there. One of my friends (a major Bellini enthusiast) was adamant that we visit Harry's Bar – the place where the worldwide-popular Bellini was invented. So we went.
The bar is in a main tourist area – it's been standing there since 1931 (it is now considered a cultural landmark). As I found out later, it's actually quite famous with celebrities – Ernest Hemingway used to frequent it, and other notable guests included Charlie Chaplin, Alfred Hitchcock, and Woody Allen! Maybe if I'd known this at the time of be more excited about my visit – but to me it just looked like a regular small bar walking in.
Looking back, it's no wonder that when we got there it was packed with people, every table sat. The clientele seemed to consist mostly of tourists – yet for some reason we got some weird stares walking in.
I soon knew why… Each drink cost €16.50! €16.50 for one drink, that's not even the most expensive drink on the menu – it's actually the cheapest. I'm still kind of in shock. Let me put this in perspective – I've bought €2 wine BOTTLES in Italy – that one half-glass of Bellini is as much as me buying 8 super cheap bottles of wine. After contemplating for half a minute if the 6 of us should just buy one Bellini and split it, we awkwardly tip-toed out of there.
So I guess my tip is: don't go to Harry's Bar expecting to have a Bellini if you're on any sort of budget, unless it's like your life-long dream. Save it for your €80 gondola ride (yes, gondola rides cost €80 – it also costs more if you want one to sing for you).
If I'm splurging on anything it's probably jumping out of a plane or going on some sort of adventure – maybe some nice clothes or purse.
Obviously go for it if you can, I'm sure they're absolutely delicious, the day I pay just under 30 bucks for half a glass of juice is the day I'll know I've really made it.
Want to be up to date on all my latest posts/stories? Like us on Facebook