Positano, a Fairytale Town in Italy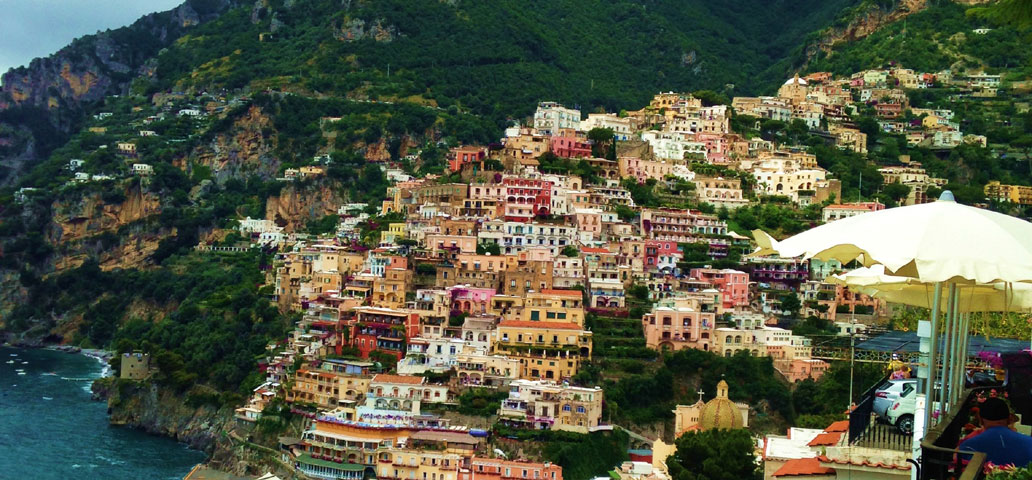 "Positano bites deep. It is a dream place that isn't quite real when you are there and becomes beckoning my real after you leave… Nearly always when you find a place as beautiful as Positano, your impulse is to conceal it."

– John Steinbeck
Oh, Positano. I don't even know where to start. I guess I should start by just introducing it.
Simply put, this was one of the most breathtaking places I've ever been to in every way, shape, and form. Positano, truly is, a dream. I was enchanted by it when I was there but what I didn't except how impacted I would be by this town after I left.
In my mind I can vividly paint those stunning colorful houses clinging to the cliff side as if they were growing from it. I can picture the blue and green hues of the clear water that would probably seem photoshopped had I not seen it with my own eyes. I smell the ocean as if it was just a mile away. I can still sense the people, the lifestyle, the food as if I had seen them this morning. I guess what I'm trying to say is that nothing compares to Positano. If I could, I really would keep this town to myself because I fell in love with it the moment I saw it.
Of course, I can't keep this place to myself, so I'd like you to feel the same awe as I did when I was charmed by this seaside paradise. I'm going to write quite a few travel tips and stories about this beautiful place, but I can't start without introducing its beauty in this short post first.
There are very few places that feel both like a fairytale and like long lost home all at once, but Positano does – it's inescapable.
There's a huge focus on touristic aspects on the Amalfi Coast. Many families, friends, and honeymooning couples come here on their trips from all over the world. It's easy to see why, and it's even easy to get disenchanted by the dozens of tourist grabs, but the beauty lies in the fact that not everything in this fantasy place is commercialized. There is so much authenticity to be found if you're willing to look. It truly is one of the most genuine towns I've experienced.
I think a place like Positano will never leave you feeling lonely, even if you're all alone. This place can really redefine what you think and how you experience the world around you.
Positano is a place where simple magic happens whether you want it to or not.
The simplest things are what make this town most amazing – the fresh garden-picked fruits on your table at breakfast, the pasta sauce made with tomatoes picked early that morning, the sun setting behind the mountains, the conversations with locals on the street.
I'm going to break all I have to say about Positano and what I had experienced there in a few short posts over the upcoming week or two – there's simply too much to write here, I wasn't even sure I could adequately describe it. I hope this introduction painted a picture of Positano for those of you haven't visited and sets the mood for what's to come.
As a side note: the sun in Positano is extremely strong. So please use sun-screen religiously and turn to a self-tanner for a non-damaging glow.